New Jersey requiring students to learn 'media literacy' to fight 'disinformation'
New Jersey is now requiring all students in grades K-12 to be taught "media literacy" as a means of fighting so-called misinformation.
"Our democracy remains under sustained attack through the proliferation of disinformation that is eroding the role of truth in our political and civic discourse," Gov. Phil Murphy, D., said in a statement. "It is our responsibility to ensure our nation's future leaders are equipped with the tools necessary to identify fact from fiction."
"K-12 media literacy education will empower future leaders to accurately assess information — essential in preserving our democracy in a time of disinformation," he added in a tweet.
New Jersey Gov. Phil Murphy is touting a new media literacy law for students K-12 as a means of fighting "disinformation."
(Eduardo Munoz Alvarez/Getty Images)
GAVIN NEWSOM TAKES HITS FROM TWITTER AFTER HERALDING CALIFORNIA AS THE 'TRUE FREEDOM STATE'
Murphy signed the bill after it passed on a bipartisan basis last month in the state legislature. The law is aimed at helping students better determine credible sources by learning the difference between news and opinion, as well as primary and secondary sources, and improving their research methods and literacy skills.
"School librarians and media specialists and teachers would be enlisted to help develop standards for information learning, including digital, visual, media, textual, and technological literacy. The law requires that public hearings be held on the standards before adoption by the state Board of Education," The Philadelphia Inquirer reported about the law.
The bill's defenders frame it as a means of combating the spread of falsehoods online on topics like the 2020 election and coronavirus pandemic, but some critics are uncomfortable with the idea of ​​the government declaring what is and isn't absolute truth, as things once dismissed as crackpot theories like the Wuhan lab-leak hypothesis have become more mainstream as time passed.
"Isn't that amazing? The government's now involved in what's misinformation and what isn't," Fox News contributor Joe Concha said Saturday on "Fox & Friends Weekend."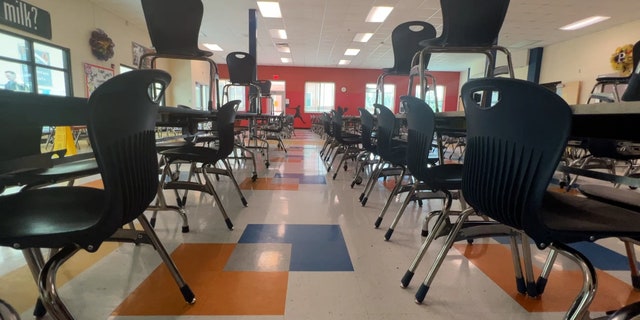 Empty classroom in an elementary school.
(FNC)
BIDEN'S WAR ON 'DISINFORMATION' RAMPS UP AS GOP ACCUSES OFFICIALS OF PLAYING POLITICS WITH THE TRUTH
A New Jersey parent himself, Concha assailed Murphy as a "master of disinformation and hypocrisy," pointing to his administration's stringent COVID-19 policies and accusations of hypocrisy when it came to masking.
"Disinformation" has become a ubiquitous term in modern political combat, with Democrats and liberal media members often soon using the word to label certain opinions and viewpoints.
Concha noted that he would have been accused of spreading disinformation at one point for saying that Hunter Biden's laptop was not a product of Russian intelligence, a talking point that was pushed heavily from liberal media outlets in the run-up to 2020.
"Who decides what's truth and what isn't? It certainly shouldn't be the teachers unions and the government… It's going to be weaponized," Concha said. "It's so subjective."
CLICK HERE TO GET THE FOX NEWS APP
A federal Disinformation Governance Board under the Department of Homeland Security came under severe criticism last year and was hastily disbanded.
David Rutz is a senior editor at Fox News. Follow him on Twitter at @davidrutz.