Sask. RMs brace for commercial revenue shortage, tax increase likely
Breadcrumb Trail links
Saskatchewan
Sask. Politics
A provincial government tax change will result in some RMs being short millions in commercial revenue. Some reeves say oil and gas groups lobbied for the change.
SARM President Ray Orb, who is also the reeve of the RM of Cupar, stands inside the lobby of the Saskatchewan Association of Rural Municipalities office in Regina. Photo by TROY FLEECE /Regina Leader post
Article content
Some rural municipalities in Saskatchewan are bracing to make tough choices after they say a tax change imposed by the provincial government will short them millions of dollars in commercial revenues.
Advertisement 2
This advertisement has not been loaded yet, but your article continues below.
Article content
RMs say the new rules require them to lower taxes for commercial properties, causing them to either cut services or hike taxes for other ratepayers. It's expected communities with more oil and gas operators will be harder hit.
Regina Leader Post Headline News
By clicking on the sign up button you consent to receive the above newsletter from Postmedia Network Inc. You may unsubscribe any time by clicking on the unsubscribe link at the bottom of our emails or any newsletter. Postmedia Network Inc | 365 Bloor Street East, Toronto, Ontario, M4W 3L4 | 416-383-2300
Thanks for signing up!
Article content
"For the RM of Mervin, it's $1.2 million in tax revenue that we're losing. And for a lot of RMs around here, it's more than that," said Brenda Ottenbreit, the RM's chief administrative officer, in an interview on Monday. "We either have to change taxes or cut services because $1.2 million is a huge amount of money."
Earlier this spring, the government informed rural municipalities it would be changing the way they can tax companies and residents in 2023.
RMs had been allowed to tax at a ratio of nine to one, but the government has changed that ratio to seven to one. (For example, if a property in the agricultural class assessed at $200,000 was taxed at 0.5 per cent, making a levy $1,000, a commercial class assessed at that same $200,000 could be taxed at a maximum of 3.5 per cent, making the levy $7,000, rather than 4.5 per cent and a $9,000 levy in the old system.)
Advertisement 3
This advertisement has not been loaded yet, but your article continues below.
Article content
Lowering the ratio means many municipalities will have to "shift" more of the tax load from commercial entities onto agricultural and residential properties.
For Ottenbreit, that means forgoing the $1.2 million the RM would have collected from commercial properties under the old system.
According to the Saskatchewan Association of Rural Municipalities (SARM), 21 RMs are affected by the changes.
In total, the tax shift will save commercial and industrial businesses $5.84 million, SARM stated. In return, farms will pay $3.78 million more in taxes and residential properties will have to pay $2.06 million more.
"There will be an economic hit, for sure, and we're concerned about that too," said SARM president Ray Orb. "We didn't want the province to go ahead but now they are. We haven't developed a plan to try and talk them out because I don't think they are."
Advertisement 4
This advertisement has not been loaded yet, but your article continues below.
Article content
A Government Relations Ministry spokesperson said the changes were implemented to "improve tax fairness" and that it "considers the use of all local tax tools and their effect on a municipality's property tax distribution."
Some reeves, however, believe there's more to it than that.
Larry Lundquist, the reeve of Eldon, said he believes oil and gas groups had been lobbying the province to change the ratio so they could pay fewer taxes.
Lundquist said he and a delegation met with provincial ministers about the change earlier this spring. The ministers told him the oil companies felt they were being unfairly taxed when compared to farms.
"There might have been some municipalities that did that, but in our case and for most of the municipalities up here, when oil took that big beating, we knocked $1 million off their taxes in order to help them," he said. "And they didn't seem to care about that."
Advertisement 5
This advertisement has not been loaded yet, but your article continues below.
Article content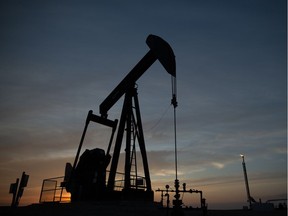 An oil pump jack and an active flare stack are seen near Estevan. Photo by BRANDON HARDER /Regina Leader post



'Goat trail' highways in Saskatchewan need fixing: Rural officials




SARM hopes new Provincial Protective Service branch will help response times
He said Eldon expects to be short $700,000 because of the tax changes. He has contemplated cutting services, but he also understands the roads need to be safe for ratepayers.
He noted heavy oil equipment takes a toll on the roads.
"We have five graders running five days a week, every week of the year," he said. "There's a direct result of the oil patch. Now, don't get me wrong, it's great to have your patch because it provides jobs."
Lundquist said legislation needs to be changed to ensure oil companies pay for road maintenance when they enter into agreements.
He explained Eldon once had a similar payment agreement with companies in the area, but it became difficult to make sure the municipality was paid.
Advertisement 6
This advertisement has not been loaded yet, but your article continues below.
Article content
Ottenbreit said she would be fine with the government going back to the old rules. Otherwise, she would like assistance.
"If the provincial government wants to implement this, and there are municipalities that are directly hit like us, then there should be some sort of compensation," she said.
The ministry said municipalities unable to implement the changes can ask for an extension.
jsimes@postmedia.com
Want to know how we decide what to cover and how editorial decisions are made at the Regina Leader-Post and Saskatoon StarPhoenix? Get the weekly Letter From the Editor newsletter from the Editor in Chief Russell Wangersky and join the discussion on what goes into covering news and delivering commentary, both in print and online. Click here to subscribe.
Share this article on your social network
Advertisement 1
This advertisement has not been loaded yet, but your article continues below.
Comments
Postmedia is committed to maintaining a lively but civil forum for discussion and encouraging all readers to share their views on our articles. Comments may take up to an hour for moderation before appearing on the site. We ask you to keep your comments relevant and respectful. We have enabled email notifications—you will now receive an email if you receive a reply to your comment, there is an update to a comment thread you follow or if a user you follow comments. Visit our Community Guidelines for more information and details on how to adjust your email settings.