Trust in news from social media decreases, ABS-CBN reach tumbles in 2021 Reuters study
video
The 2021 edition of the Digital News Report by the Reuters Institute for the Study of Journalism was published on Wednesday, June 23.
This year's report, now on its 10th edition, polled 92,000 people in 46 media markets in what is considered as the most comprehensive global analysis of news consumption trends.
2,209 Filipinos, ages 18 and above, participated in the survey conducted in late January to early February by UK-based market research agency YouGov.
Results showed that the proportion of Filipinos who say they trust news from social media fell from 22% to 20% from a year ago but those who trust "most news most of the time" rose from 27% to 32%. Trust in news among Filipinos is still below the global average of 44%, and is sixth to the last in the said metric.
Despite the increase in trust, general interest in the news decreased, with the share of Filipinos who are "very" and "extremely" interested dropping from 69% to 65%. The proportion of Filipinos accessing the news at least once a day also dropped from 86% to 81%.
Print consumption, due to the COVID-19 pandemic, unsurprisingly dropped, shrinking from 22% to 16%. TV viewing also dropped – defying the general trend worldwide that has seen people watching TV more because of lockdowns – from 66% to 61%.
ABS-CBN is the hardest hit as its weekly reach dropped to 41% from 62%. GMA increased its reach by 6 points to 59%.
Trust in GMA News remained at the same level while ABS-CBN and Rappler each fell by 4 points in their trust scores. Tabloids Abante and Bulgar lost 3 points.
However, ABS-CBN and Rappler are two of the media brands that are among the most attacked by the Duterte administration. ABS-CBN was shuttered in May 2020 after its franchise expired. The NTC ordered the network to shut down amid condemnation from other journalists, press freedom organizations, and human rights groups.
On July 10, the House committee on legislative franchises junked ABS-CBN's bid for a fresh franchise, due to alleged "numerous violations" of its old franchise – violations the network has denied.
During the Duterte administration, Rappler and its CEO and executive editor Maria Ressa were also the subject of attacks to bring down their reputation. There have been coordinated covered disinformation campaigns on social media, along with public pronouncements by President Duterte himself, including the SONA, to undermine the credibility of Rappler.
The attacks started in 2016 after Rappler uncovered the propaganda network of Duterte. From online disinformation attacks and hate campaigns spread through Duterte bloggers and influencers, Rappler was eventually hit with a number of state-led lawsuits ranging from cyber libel to tax evasion.
A recent study by the International Center for Journalists said that almost 60% of the attacks on Ressa were focused on undermining her "professional credibility and public trust in her journalism."
These two media organizations are among those most critical of Duterte in the Philippines.
The top spots in the rankings in terms of trust, GMA News and Manila Bulletin, are not known for having critical coverage on the media-attacking Duterte administration. In May 2021, GMA's Palace reporter Joseph Morong was transferred to another beat after fact-checking several wrong claims of the president about the pandemic.
The trust scores are below with GMA at the top with 74 points, followed by Manila Bulletin and TV5 at 69 and 68 points. ABS-CBN, Abante, Rappler, and Bulgar figure in the bottom four with scores of 57, 47, 45, and 40.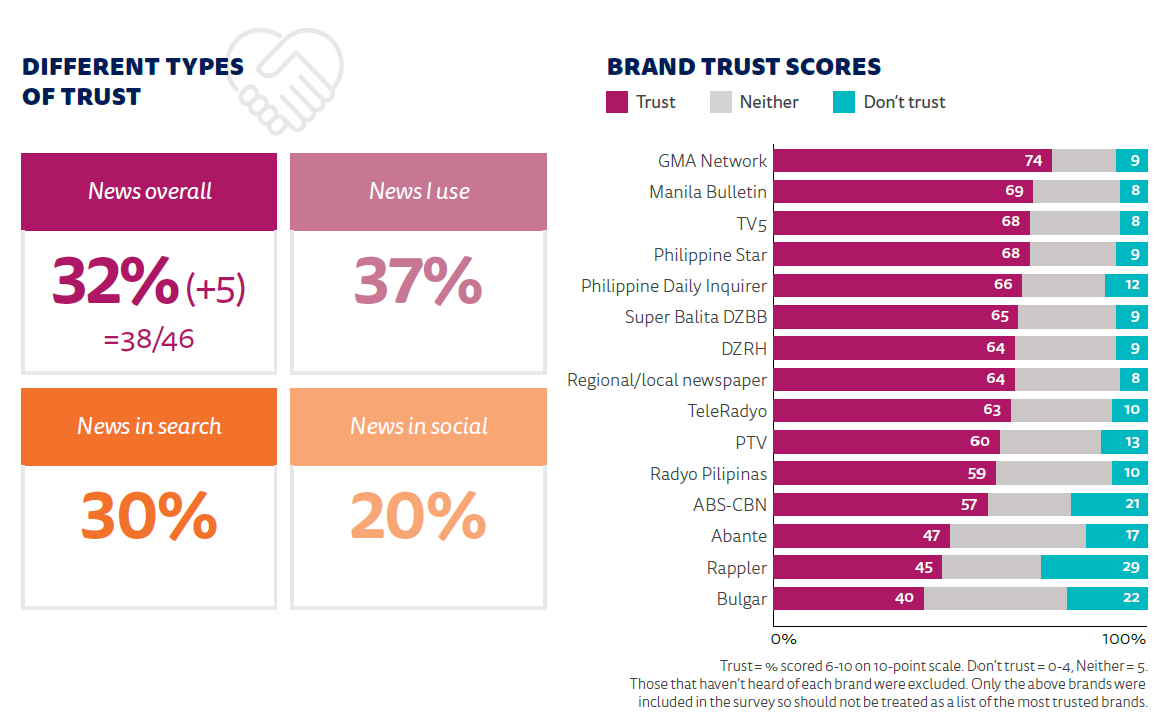 The Philippines, however, defies the trend in many countries that has seen TV viewing surge as lockdowns grounded people at home.
On the whole, TV usage has slipped 5 points to 61%. In particular, ABS-CBN's weekly reach has tumbled 21 points to 41% and local television's reach 6 points to now just 7%. GMA Network, the country's top and most profitable media brand following ABS-CBN's closure, has meanwhile widened its reach by 6 points to 59%.
Online news, social media consumption
Online news consumption inched forward from 85% to 87% while social media as a source of news grew from 68% to 72% among Filipinos.
GMA, ABS-CBN, Philippine Daily Inquirer, Rappler, and Yahoo! News, in that order, have the biggest reach online. CNN Philippines, MSN News, BBC News, SunStar, and The Manila Times figure in the bottom five:

Facebook remained the biggest source of news for those who consume news on social media at 73%. YouTube (53%), Facebook Messenger (36%), Twitter (19%), and Instagram (12%) ranked next.
TikTok news consumption also grew from 2% last year to 6%.
The report said 78% of digital news is consumed on a smartphone, growing by 3 points, followed by personal computers at 39%.
Concerns about misinformation grew in the Philippines by 2 points at 59%, a percentage point higher than the global average. The coronavirus is the biggest topic of concern regarding misinformation, with politics and celebrities at second and third.
Filipinos also believed that the government and politicians are the top sources of misinformation on the coronavirus, with 34% of the sample believing so. Other sources tagged were ordinary people (19%), journalists (11%), and activists and foreign governments (each 10%).
Further, 50% of Filipinos also believed Facebook was still the biggest platform for misinformation, a number that is far higher than the 28% global average.
More than half of Filipinos also felt that mainstream media represented their age, gender, social and economic class, ethnicity, and community fairly, but only 45% felt that political views were covered fairly. – Rappler.com