South African social media statistics for 2020
Social media is a great tool that allows brands to stay connected with their audience, but there's no point in spending all of your time, money, and effort on a platform where your audience isn't even there.
And what is one of the best ways to find out where your customers like to shop? With a view to the numbers, of course!
Talisa Jansen van Rensburg from media update takes a look at the most popular social media platforms in South Africa and all the important statistics.
So let's take a look at the most popular social media platforms SA:
1. Facebook
According to statistics of Napoleon Cat took in August 24,100,000 South Africans Facebook. With 50.4% of the audience female and 49.6% male, Facebook is still the most widely used social media platform in South Africa.
This means that brands and influencers have great chances of continuing to grab their audience's attention on this platform – especially since it is balanced between the two sexes. This means that you can focus as a brand or influencer on achieving on this platform women, men or both parties.
Additionally, the age group most active on Facebook is 25 to 34 years old, of which 17% are female and 17.8% are male. Followed by the 18- to 24-year-old using the same proportion of male and female users.
2. Facebook Messenger
The second most used social media platform in South Africa is Facebook Messenger with 21,710,000 users in August, according to Napoleon Cat, who makes up 36.7% of the total population. Again, the age group that dominates on this platform is between 25 and 34 years old, with 17.5% female and 18% male.
A great way for brands to connect with the audience on this platform would be directly from the Facebook Messenger.
This can be done by:
Answering the FAQs of your consumers through personal or automated responses
Sending reminders or follow-up messages
Interaction with users who have subscribed to your Facebook Events
If you do these things, you can better connect with your fans and interact with them. However, if you are using Facebook Messenger, you should also take into account that many consumers may also use this platform to complain about your product or service, although you may get a lot of positive feedback on topics.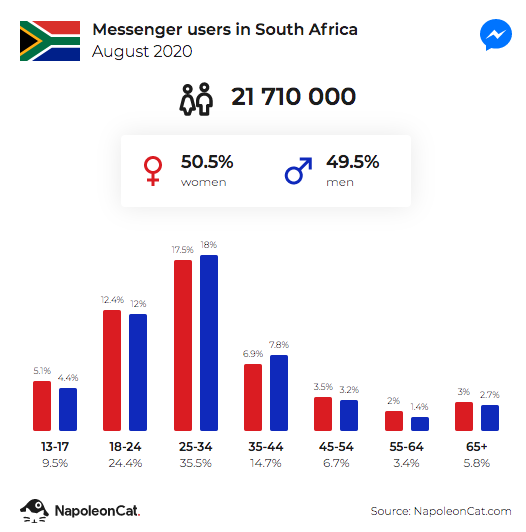 3. LinkedIn
There are still countless brands in South Africa LinkedIn in terms of their social media strategy overlooked. But considering 8,240,000 South Africans used this platform in August, it might be in your best interest to pay close attention to this business and business-oriented pub.
Again, the largest age group is between 25 and 35 years, making a total of 60.7%, which corresponds to 5,000,000 people. This means that there are endless possibilities for your brand to reach your audience on LinkedIn.
You can do this in the following ways:
Update the LinkedIn profile of your business as often as possible.
Keep the algorithm of LinkedIn in mind to ensure that your strategy remains up to date.
Learn about the available on the platform forms of advertising to make optimal for your marketing.
Share to your customers to keep exclusive content in your profile on their toes.
If you want to learn more about how to enter the LinkedIn market and reach your audience, learn all about how to market your business on LinkedIn in 2020.

4. Instagram love Another platform that South Africans, Instagram with 5.152 million users in August. The majority of users of this platform are 18 to 24 and 25 to 34 years old. Most users are female, and result in the age group between 25 and 35 years, women with 80,000 points.
This is how you can address this target group:
Create themed posts, dealing specifically with the amazing world of women.
Host giveaways, where only women can participate or are interested only women.
Give women the opportunity to tell their story on your Instagram page.
Promote equality.
Also Check out these five South African top brands on Instagram to:
These South African brands are showing us the unlimited potential that is waiting to be unlocked on this platform and with all of their potential for brands, it could be time to enter this market.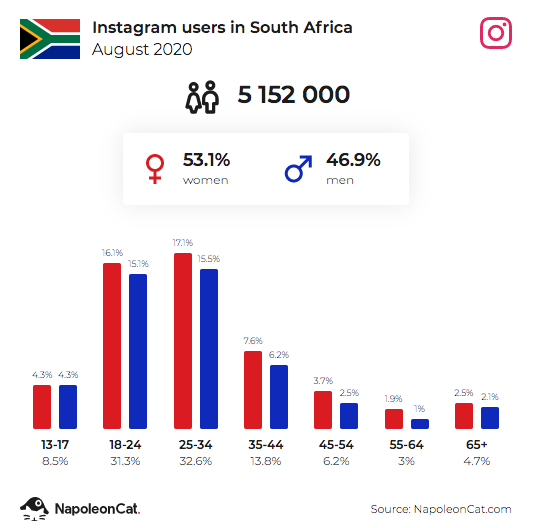 What is your social media platform? Let us know necessarily in the comment section.
Do you love this type of content? Then subscribe to our Newsletter.
Still not convinced that Instagram is the right place? Then you look at these three reasons why you should place your brand on Instagram.
* Image courtesy of Canva
Social Media Statistics in South Africa Statistics on South Africa Social media stats for SA Social Media Statistics in South Africa