Better to set your money on fire than give it to a politician to spend on television commercials
Okay, you want to make this country a better place for you, your children and many generations to come. So you're donating to a political candidate who you believe is fighting for a better country.
But in reality you are wasting your money. Here's why.
Television has long been the golden goose of political advertising. Popular belief is that the candidate who can spend the most on it is most likely to win.
With the exception of Donald Trump, almost every person elected president since 1960 has raised and spent more money than their opponent. These include Reagan, George HW Bush, Clinton, and Obama – and a significant portion of that money is used to buy expensive television advertising.
In 2016, Hillary Clinton raised over $ 1.1 billion, while Trump's total was less than $ 650 million. For television advertising, she has surpassed Trump almost three times.
So how is it that a presidential candidate was won and spent with less money?
Spend where it matters
Some have attributed this to the free media Trump received from television stations hungry for ratings. But in many ways this argument does not hold up. So consider another answer: digital advertising.
While spending a lot on television, Trump spent four times as much as Hillary Clinton on digital ads, which are advertisements on a computer rather than typical campaign ads on TV, in the mail, or on billboards.
Why should this be the answer?
As of 2016, a new era of politics has established itself (probably initiated by Obama in 2008) that is dominated by digital advertising. And nobody did it better than Donald Trump.
The wasted dollars on TV advertising
A typical House candidate will spend 65 to 70 percent of their total political budget on TV and US mail advertising.
If any of them advertise on television, nearly 80% of the money spent on the ads will be spent sending those ads to people who don't vote or who live in that candidate's district. This is because with television you cannot address your audience on the same level as digital. This is true from the major metro TV markets to rural states.
So when you donate to a political campaign, over 50% of your money is spent on TV advertising that doesn't reach people who can vote for your candidate.
Also, when you factor in what is being spent on further advertising, it turns out that for every dollar you donate, only 10 cents actually go to the electorate.
In fact, TV commercials are the worst bang for your buck in terms of impact.
However, when you donate district and presidential campaigns that advertise digitally, that's a whole different story.
Digital advertising is better targeted
When politicians advertise digitally, their advertising can become smarter and more targeted. That's because digital advertising gets more information about individuals and better learns what guidelines and causes are of interest to donors.
For example, much of Donald Trump's current Facebook advertising doesn't even ask for money, but for information about you, such as what topics you are interested in and whether you are in favor of building "The Wall". Here is a screenshot:
Screenshot from the Trump campaign on Facebook.
Facebook
And here are screenshots from a campaign website that took you to the Facebook ad that contains an "Official Secure The Border Survey".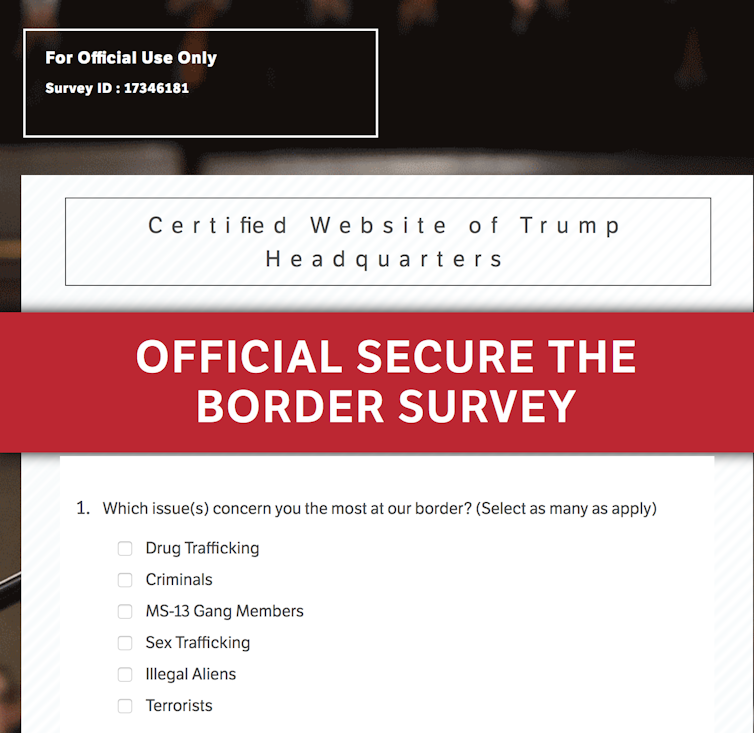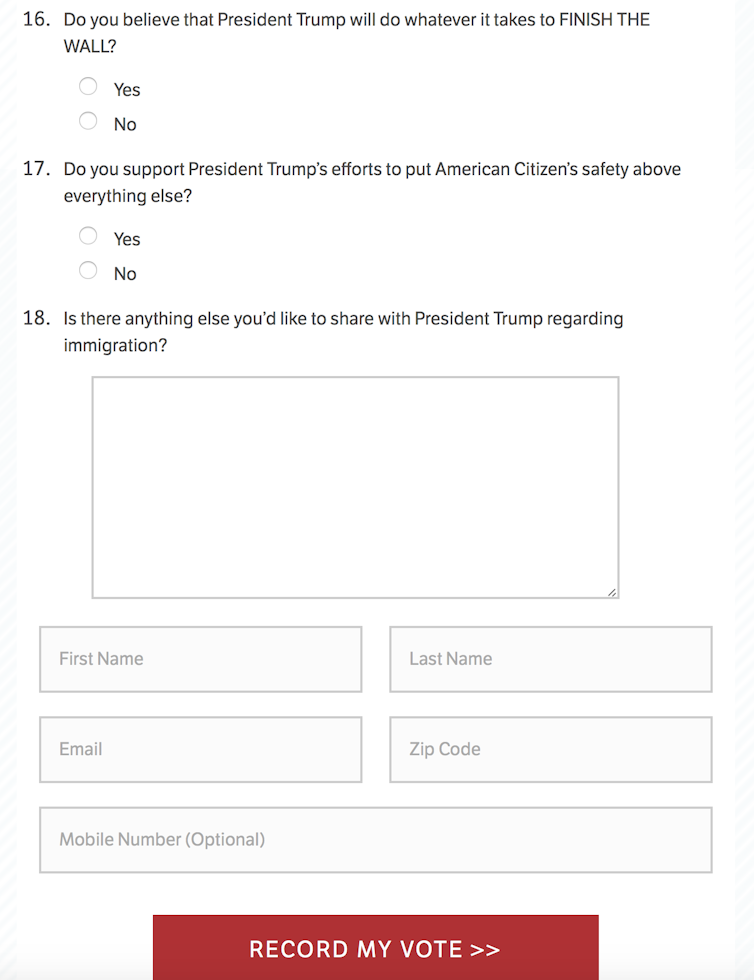 Screenshots, Trump campaign website.
Facebook
Trump's digital ads not only ask for your opinion on various topics, they also assign you a survey number and ask for all the necessary data (name, email, zip code, phone number) to address you individually for future polls and fundraising drives.
This is even more valuable than the advertising itself, as it allows individuals to be continuously approached on topics that are particularly important to them.
Trump spent 44% of his massive 2016 election media budget on digital advertising. Commercial companies spend 54% of their advertising budget on digital advertising. But the US Senate campaigns only spent 4 to 7% on digital advertising in 2016.
Who do you think spends more money trying to find out how people respond to different types of advertising?
Now that he's running for re-election, President Trump is currently running thousands of ads a day on Facebook alone. That is consistently more than the 23 Democratic candidates challenging Trump put together.
If this trend continues in the general election, I'll be pretty clear who is most likely to win.
It seems that the winners will be those who use the digital smart – the losers will be those who stick with television.
[ Deep knowledge, daily. Sign up for The Conversation's newsletter. ]