Cable cutting has grown since 2015
The percentage of Americans who say they watch TV via cable or satellite has dropped from 76% in 2015 to 56% this year, according to a new Pew Research Center survey of US adults. 71% of those who do not use cable or satellite services say they can access the content they want online, while 69% say the cost of cable and satellite services is too high and 45% say they don't watch TV often.
The Pew Research Center regularly studies the changing information and media ecosystem in the United States. This report focuses on Americans' use of various platforms to watch television content. For this analysis, we surveyed 1,502 adults in the United States from January 25 to February 8, 2021, using cell phones and landlines. The survey is weighted to be representative of the adult US population by gender, race, ethnicity, education, and other categories. Here are the questions, answers, and methodology used for this report.
The decline in cable and satellite subscribers underscores the changing landscape of connectivity and media in an era of "cable cutting," especially as internet streaming services like Netflix and Hulu rose in popularity, particularly during the COVID-19 pandemic.
Among those who do not currently subscribe to cable or satellite television, 61% say they have done so in the past, while 39% say they have never been a subscriber. Applying these results to the general population, it means that 27% of adults in the US are "cable cutters" and 17% have never had a cable or satellite subscription, according to the survey, conducted January 25 through February. 8, 2021.
The decline in cable and satellite TV subscribers since 2015 is evident across the demographic spectrum (see detailed table). The trends between the different age groups are particularly noticeable.
Only about a third (34%) of Americans aged 18 to 29 receive television via cable or satellite, 31 percentage points less than in 2015. Points. The decline was less dramatic for those aged 50 and over: the 50 to 64 age group recorded a decrease of 14 points since 2015. Those aged 65 and over recorded a decrease of 5 points, which is not a statistically significant difference .
Young adults are not only notable for not watching cable or satellite television, they are also much more likely than their elders to have never watched cable or satellite TV at home – and say they don't subscribe because they can find the content they want online.
61% of 18-29 year olds who do not currently receive cable or satellite television say they have not in the past, compared with around three in ten in the older age groups. And 91% of non-subscribers in this age group say that they do not subscribe because they can access the content they want online – again a significantly larger proportion than among the older non-subscribers.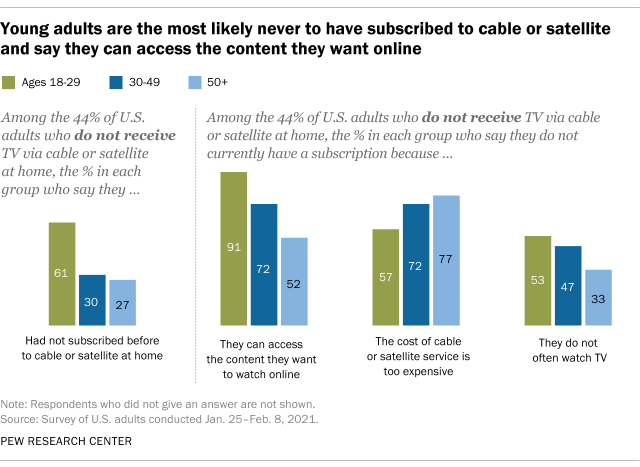 About half (53%) of non-subscribers ages 18-29 say they don't have cable or satellite TV at home because they don't watch TV often. This contrasts with a similar proportion (47%) of non-subscribers between the ages of 30 and 49 and a third of those over 50.
A major barrier for older Americans is cost. Almost eight in ten non-subscribers aged 50 and over say they don't have cable or satellite service because it's too expensive. About seven in ten (72%) non-subscribers ages 30 to 49 say the same thing, but the proportion who say so is smaller (57%) among non-subscribers ages 18 to 29.
These changes in the media landscape came after cable service peaked in the United States about a decade ago. The move to streaming services has been accompanied by the increase in mobile connectivity via smartphones, the emergence of app-based streaming services and smart TVs. Industry research last summer showed that 55% of US households have two or more streaming services.
CORRECTION (March 2021): In a previous version of this post, party affiliation was incorrectly listed as a way in which the poll is weighted as representative of the US population. None of the study results or conclusions are affected.
Note: Here are the questions, answers, and methodology used for this report.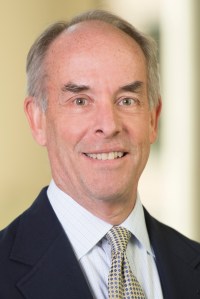 Lee Rainie is Director of Internet and Technology Research at the Pew Research Center.