In the age of fake news, it is never too early to teach children media literacy.
Deep in a public library in Maryland, there is a double-glance photo on the wall of a room called the Innovation Lab. It shows an adorable little boy in flip-flops, a blue T-shirt, and red shorts, huddling up against a muscular, meandering snake that is at least ten times his size. The little boy, grinning, strokes the snake's head.
The boy in the picture took the photo last year after jumping into the library with his younger sister and mother to collect pictures for an elementary school project. Under the guidance of Linda Bartkowski, a part-time librarian at the Center for Digital Media Resources, he searched the library's free image database for a photo of a snake, took a picture of himself in front of the green screen in the back of the lab, and then used photo editing software to to create his masterpiece.
When the photo was printed, he excitedly danced through the Innovation Lab. "He was thrilled," said Bartkowski. "It looked so real." But most of all, he knew it wasn't.
As we approach the anniversary of Donald Trump's breathtaking election, the words fake news fly around with more crackling than ever before. Between erroneous allegations of fake news, its true revelations, and the much-cited Stanford study suggesting that junior through college students had serious difficulty assessing the credibility of information on the Internet, many of us are looking for a return to something that resembles the solid foundation of evidence and reason more than swirling tornadoes of invention and uncertainty.
Fortunately, educators are realizing they are part of the answer and are looking for ways to teach their students to be critical consumers of the deluge of media they will encounter in the highly connected world of their generation. Many turn to media literacy training. By most definitions, media literacy involves teaching students how to create media content, as well as strategies for accessing, analyzing, and evaluating the messages and bias in their content.
For example, a recent article in the Columbia Journalism Review explains that as of the fall of 2017, at least a dozen universities across the country have offered courses teaching critical thinking in media consumption, including a University of Washington course called Calling Bullshit in the Age by Big data. Earlier this year, the Washington Post Magazine also featured a number of college and high school news literacy courses. New tools such as the nonprofit News Literacy Project's Checkology, an interactive online curriculum designed to teach middle and high school students how to become smart consumers of the news and information they encounter every day, are also emerging.
These reports might give you the impression that media literacy is a skill best remembered by teenage and young adult students. But the story of the little boy's snake photo suggests what these approaches may be missing. What about media literacy education for primary schools? With easy-to-use digital tools and an increasing recognition of young children's cognitive skills, we are seeing the emergence of something that didn't exist a generation ago: new ways to teach emerging media literacy to children in elementary school (K-3) and in some cases even to preschoolers.
No, these early lessons do not and should not include educators teaching first graders how to call bullshit. But it can expose children to new ways of thinking – an exposure that will be a precursor to the lifelong skills the next generation will need to better understand how media is made and manipulated. Not to mention how it can be used to fool or evoke certain emotions.
For example, this little boy in the Abingdon Library's Innovation Lab now has an understanding of how someone can fabricate an image. He knows how a green screen works. Under the guidance of a librarian, he has gone through the steps of choosing compelling images and considering how they can be played in various forms. He has watched digital material being manipulated with software, printed and turned into something tactile that could be pinned to a wall (or otherwise manipulated, as was the case when he used the lab's 3D printer to create a three-dimensional model of him.) favorite snake).
"Libraries have always been instrumental in building pre-literacy skills," said Mary Hastler, executive director of Harford County's public library system. Those skills, Hastler said, include techniques like holding a book or reading from left to right – both of which are basics of reading and writing. Now, she said, libraries are preparing to deliver parallel digital technology skills that experts believe will be critical to learning to read texts in the digital age. It helps that kids enjoy playing with tools like photo editing software that allow them to go out with their own creation. "But it's not just about having fun," said Hastler. "It's also about: How is it put together? How is it made? "
Faith Rogow, an early childhood advisor specializing in media literacy, has been making this clear for years. As the founder of the National Association for Media Literacy Education, Rogow has observed how children acquire new media understanding skills when given the opportunity to create media rather than just consume it.
It also focuses on teaching the critical thinking skills that underpin media literacy and explores age-appropriate ways to develop these skills in young children. This can mean just reading aloud with storybooks that have a few questions for the next step. For example, parents and educators can ask children not only "What do you think will happen next?" But also, "How do you know?" Or "Why do you say that?"
"For the youngest children, the answers are less important than just establishing the expectation that their answers are based on evidence," Rogow told me in an interview for my book Tap, Click, Read (written with Michael H. Levine). that focuses on teaching literacy in the digital age. "When children know they are being asked for explanations, they respond differently to the media," she said.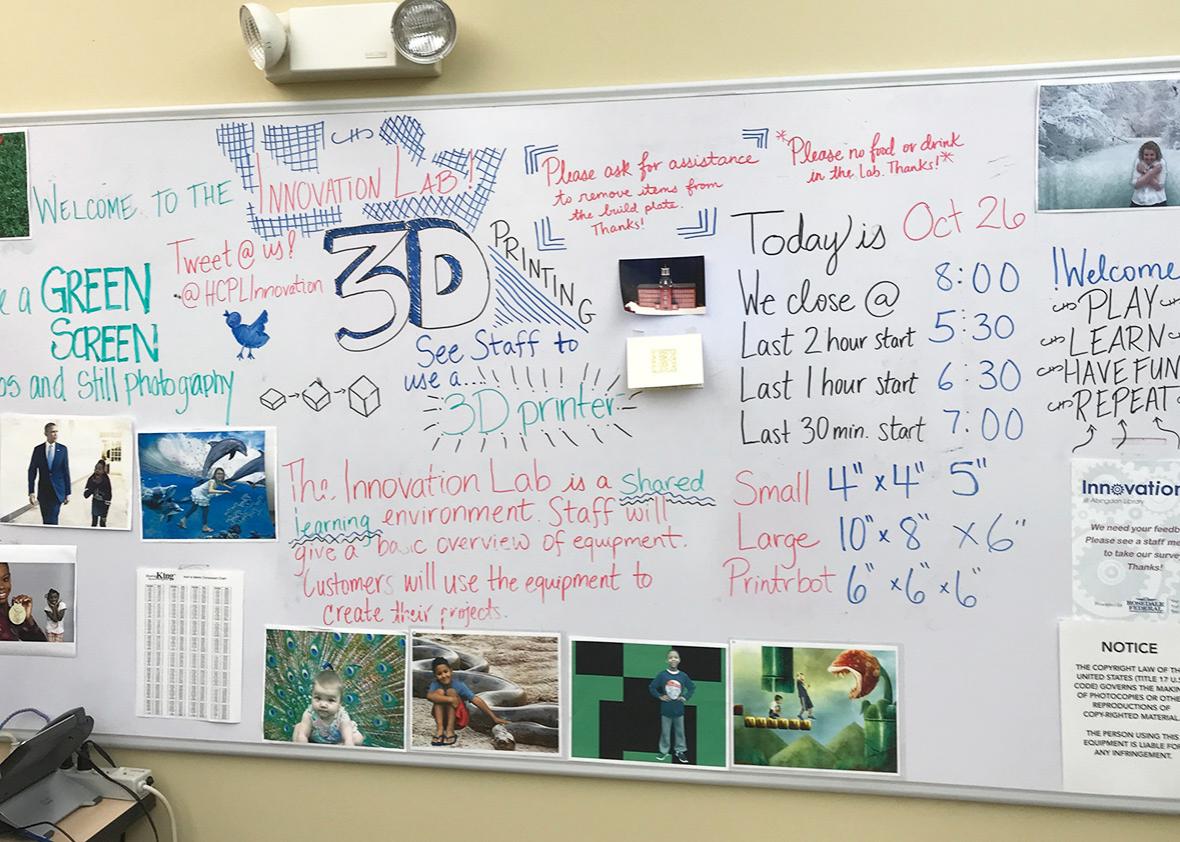 Notice board in the Innovation Lab of the Abingdon Branch of the Harford County Public Library in Maryland.
Lisa Guernsey
Parents and educators are starting to build these media literacy skills without even realizing it. Last June, children were given media making lessons at a Maker Faire (a mini festival showcasing art and technology) at the Liberty Elementary School in Baltimore. Students as young as 6 crowded around teacher Christyn Wallace, who showed them how to use GarageBand software to watch and capture the slap of their paper cups slapping on the table. Artist and tutor Kathleen Mazurek guided young students in making popsicle dolls for creating stop-motion videos and challenged them to think about the designs that would best fit the story they are telling wanted to. Elsewhere, in pre-K centers and elementary schools across the country, educators are experimenting with e-book-making apps that can introduce their young students to the process of creating, publishing, and sharing stories.
Teachers can even use old-fashioned printed books that don't require digital technology to initiate a dialogue with young children about many of the decisions involved in telling a story. For example, the new children's book This Is Not a Normal Animal Book by Julie Segal-Walters and Brian Biggs takes picture books to a new level by giving readers an insight into the battles of their creators. As the story progresses, the book's illustrator (Biggs, whose words are drawn in pencil) begins to rebel against the book's author (Segal-Walters, whose words are in typescript). On page 5, the fight gets especially silly when the writer declares she wants to show readers a puffer, but the illustrator refuses to draw one for them and instead sprinkles a dollop of strawberry jelly on the page. Just like the Sesame Street classic, The Monster at the end of this book, in which Grover warns readers increasingly gloomily that turning the pages will bring them closer to that monster, This Is Not a Normal Animal Book has an adorable meta-feel to it. and one that has young children giggling and wondering how it will end on the edge of their seats.
With examples like this popping up in libraries, schools, and bookstores across the country, it seems not only possible but also imperative to begin media literacy training at a much younger age.
There are many questions about what types of lessons work best and how this curriculum can be integrated with other content (e.g. learning how to take fake photos with snakes while learning real facts about the creatures). It is also important to integrate these lessons into core subjects such as reading or arithmetic and ensure that they are arranged in such a way that the skills of the young students can be developed from one grade level to the next with increasing complexity.
In order to develop a citizenship that is much more adept at dealing with the media – a generation that looks at a Facebook post critically before it "likes" it and questions the procurement of a blog post that seems a little too sensational – we need one much broader approach than a few creative moments in a public library.
But these early media moments offer a start. The joy and trust of the students who use these digital tools is a sign that the Innovation Lab is already making an impression, says Bartkowski. She beams when she thinks about the difference it made to the little boy using the green screen.
"A couple of weeks later," she said, "he came over excited about his snake project. 'Oh my god', he told me, 'I have an A!' "
This article is part of Future Tense, a collaboration between Arizona State University, New America and slate. Future Tense examines the effects of new technologies on society, politics and culture. To find out more, follow us on Twitter and subscribe to our weekly newsletter.