Journalist shares career experience and perspective on journalism and international relations
On May 28, Stephanie Fillion, a veteran journalist covering the United Nations, spoke at an event hosted by The Diplomatic Envoy, The Global Current, and The Journal of Diplomacy. Fillion, who is also a podcast presenter with many years of experience in international journalism, described her career and spoke from her perspective about the challenges of journalism today. After the event, Jasmine DeLeon of The Diplomatic Envoy Fillion interviewed about her career and advice to students interested in the field.
Journalist Stephanie Fillion recently spoke to Seton Hall students about her work on the UN.
Stephanie Fillion is from a small town in Quebec, Canada, where the seeds of her journalistic experience were sown.
She completed a three year journalism program through the Cégep system as the program combined her interests in writing and traveling. Then she continued her studies through a university course.
Fillion studied political science, history and Italian at McGill University. She was then accepted into what she described as "a dream come true" at Columbia Journalism School, with a Masters degree in Journalism, Politics and Global Affairs.
"Having a Master makes a difference when it comes to getting into specific rooms," Fillion told students during the Seton Hall-sponsored virtual event. "A Masters in Journalism and associated skills will help you take the next step as a journalist that you wouldn't take as a breaking news reporter."
However, Fillion noted that many Columbia students think their degree will open all doors, but difficulties still remain. She emphasized that this was especially true for international students, as American companies were reluctant to hire them.
After graduating from Columbia, Fillion worked for Pass Blue, a non-profit publication dealing with the United Nations. She said it was important to build relationships with different media in order to build a large network.
While working at Pass Blue, Fillion also started her own podcast: UN-Scripted. "Podcasting is an interesting medium because you can do it in a documentary style, wherever [projecting] Pictures on a television can be time consuming, "said Fillion, adding that she would recommend podcasting for those looking to gain more experience in journalism.
Fillion encouraged diplomacy students to learn other languages ​​and emphasized the importance of cultural fluency in international relations and journalism.
"Knowledge of two languages ​​is very important at the UN," notes Fillion, who studied Italian. "If I had the time and the courage to learn certain languages, I would learn Chinese, Arabic, or Russian."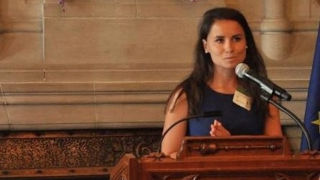 Fillion also advised budding journalists to be "very persistent and very patient". She said that even as a millennial, she believes that the younger generation is not very patient. "It's valuable to learn every step of the way – learning how to check facts, how to conduct interviews – because it's really valuable to be patient and learn to do things slowly," said Fillion.
Fillion spoke about the challenges and difficulties journalists face in adapting to a rapidly changing world. She said the "million dollar question" the world is trying to solve is how journalism can adapt and capitalize on the rise of social media and digital communications. "The internet has the effect of empowering all types of speech and perspective," said Fillion. "In the discourse about fake news, many people are not aware that there are processes and rules in journalism and that journalists cannot simply write what they want." Fillion advises students who use social media to be careful and understand that what they post has ramifications.
Based on Fillion's experience as a UN reporter, she believes that with limited resources, there is also more room for quality journalism, especially more investigative and in-depth work, at the United Nations.
"The UN is such a gigantic organization that I think more news organizations could provide resources to it," said Fillion. "The main job of journalists is to hold people accountable. From what I've seen at work, journalists have only been able to scratch the surface."
Fillion admits that journalism "is a difficult area and people have to be passionate and work hard to be successful". Fillion said at the event, "It can take a little while to get published and it may take a little while to take a break, but it's a fascinating profession where you meet extraordinary people every day and sometimes it's worth it wait and build your name. "
Fillion pondered the many stories she's told in her career. She said that picking a single story is difficult because "every person you meet helps you grow and learn something new." "I've interviewed presidents and common people, and I don't care because everyone has faced challenges in their lives," said Fillion. "It's about listening and trying to make the most of this story – and telling this story to other people."