10 facts about Americans and Facebook
Facebook, the social media giant founded in 2004 with now more than 2.8 billion monthly users worldwide, is a regular focus in the US and abroad.
Some U.S. lawmakers have argued that the platform was too powerful and should be disbanded, and in late 2020 the federal government and 46 states (as well as the District of Columbia and Guam) sued the company for alleged antitrust violations. Facebook's decision to suspend former President Donald Trump's account in early 2021 has fueled additional debate. Many Republicans have accused the platform and other social media sites of censoring conservative positions, despite many Democrats in Congress urging them to do more about misinformation, hate speech and content that could incite violence.
Here are 10 facts about Americans and Facebook, based on polls by the Pew Research Center over the past few years.
Social media, and Facebook in particular, has become ubiquitous in American life. This analysis uses data from several surveys by the Pew Research Center to gain insights into Facebook users and their experiences with the platform.
All of the surveys listed here – including each survey mode, field data, and sample size – are available from the links in this analysis.
About seven in ten adults in the United States (69%) say they ever use Facebook. According to a telephone survey in early 2021. The proportion of adults using the platform has not changed significantly since 2016.
With the exception of YouTube – the video platform used by 81% of adults – no other major online platform comes close to Facebook in terms of usage. Four in ten adults say they use Instagram, while around three in ten use Pinterest (31%) and LinkedIn (28%). A quarter of adults or less use Snapchat, Twitter, WhatsApp, TikTok, Reddit, and Nextdoor. Facebook owns Instagram and WhatsApp.
Among US adults who use Facebook, seven in ten say they visit the website every day, including around half (49%) who do so several times a day. In comparison, 59% of Snapchat and Instagram users say they visit these platforms at least daily, as do 54% of YouTube users and 46% of Twitter users.
Facebook is widely used by all demographics, although some adults are more likely to use it than others. Around three-quarters of US women (77%) use the platform, compared with 61% of men. There are also differences according to educational level: around three quarters (73%) of adults with a university degree or more use Facebook, compared to 64% of adults with a high school diploma or less.
Americans 65 and older are the least likely age group to use Facebook, with half saying so. But that is still a 30 percentage point increase since August 2012, when only 20% said they used it.
There are partisan differences when using many social media platforms, but not with Facebook. About seven in ten Democrats and Democrat-minded Independents (72%) use Facebook, as do 69% of Republicans and GOP supporters. Democrats are much more likely than Republicans to use many other social media platforms, in particular Instagram (49% vs. 30%), Twitter (32% vs. 17%), and WhatsApp (30% vs. 16%).
As of 2018, Facebook was used by roughly half of American teenagers, but it no longer dominated the teenage social media landscape as it used to. according to a survey of US teenagers in March and April this year. At the time, 51% of 13-17 year olds said they used Facebook, up from 71% in a 2014-2015 survey.
The top teen social media sites in 2018 included YouTube (used by 85% of teenagers), Instagram (72%), and Snapchat (69%). In the 2014-2015 survey, Facebook was the only platform used by a clear majority of young people.
Young people from lower-income households are more likely to use Facebook than those from higher-income households. According to a spring 2018 survey, seven in ten teenagers who live in households that earn less than $ 30,000 a year said they use Facebook, compared to 36% of those whose annual family income was $ 75,000 or more . For other social media platforms, usage among adolescents did not vary much due to demographic factors.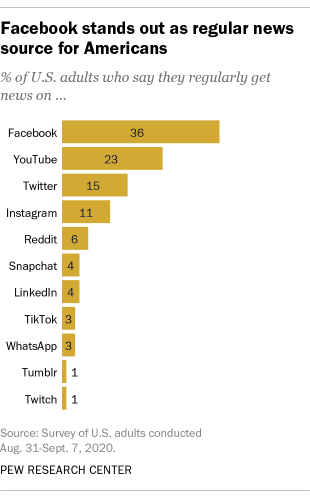 About a third of US adults (36%) say they get regular updates from Facebook according to a survey in August and September 2020. The proportion of US adults who receive messages via Facebook is higher than the proportion who regularly receive messages via YouTube (23%), Twitter (15%), Instagram (11%) and other platforms.
Among adults who receive messages from Facebook, women are much more likely to do so than men (63% versus 35%), as are white Americans (60%) compared to those who are Hispanic (18%), blacks (13) . %) or Asian (5%).
Far more Americans distrust Facebook as a source of political and election news, according to a survey in October and November 2019. About six in ten adults (59%) said they distrust the platform as a place to get such news, while only 15% said they trust it. Another 19% said they neither trust nor distrust her. Both Democrats and Republicans were far more likely to distrust Facebook than trust Facebook for political and electoral news.
From the end of 2018, around three quarters of Facebook users did not know that the page lists their properties and interests for advertisers. Facebook enables its users to find out how the website's algorithm categorized their personal characteristics and interests for advertisers: this information can be found on the platform's "Advertising Preferences" page. However, 74% of adult Facebook users in the US were unaware that the website was collecting this information about them until they were directed to this page, according to a study by the Pew Research Center conducted in September and October 2018.
The fact that the company maintains a list of users' characteristics and interests is uncomfortable for many users. According to the same 2018 study, about half of adult Facebook users (51%) said they were uncomfortable with Facebook keeping this type of list after being directed to their advertising preferences page. And while a majority of users (59%) stated that the categories created by Facebook reflected their real interests, around a quarter (27%) stated that these classifications were not very or not at all correct.
Note: This is an update of a post that was originally published on April 10, 2018.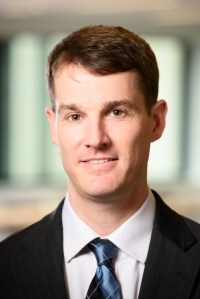 John Gramlich is the senior writer / editor at the Pew Research Center.